Since the opening of Ikebukuro PARCO in 1969, PARCO has worked to discover, introduce, and support talent in all areas of culture, including fashion, music, art, and drama. The PARCO Group supports all those creators whose hopes and dreams will open the way to a confident future.

Since 2010, we have supported a variety of activities within our LOVE HUMAN message.
Continuing in that spirit and with the goal of strengthening our focus on incubation activities that discover and support new talent, in 2014 we launch a new corporate message, SPECIAL IN YOU.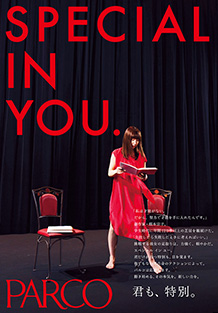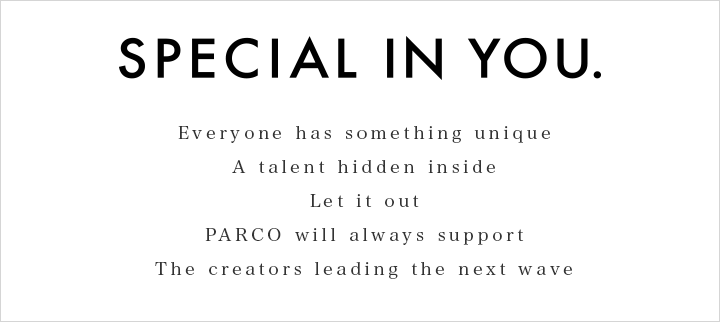 Incubation
By discovering and supporting new talent, we are, by extension, creating new value.
Since its founding, PARCO has been at the forefront of introducing the public to the cutting edge of culture, whether in music, the arts, the theater or other areas, discovering and supporting a host of new talent along the way. PARCO is taking advantage of its domestic and overseas networks and business expertise to provide opportunities for business growth.
We are also communicating proactive incubation activities in this vein in step with our corporate message, "SPECIAL IN YOU."
The PARCO Group Value Creation Process
PARCO, together with its stakeholders, strives to create new lifestyles, guided by the PARCO Group Corporate Mission and the sentiment embodied in the PARCO name. In business, PARCO leverages its capabilities as a comprehensive commercial space producer, while pursuing management strategies in step with the times, to propose ways to enrich consumer lifestyles. This encapsulates the creation of new value to which society can connect.
PARCO views the tireless advancement of such value through "Incubation," "Urban Revitalization" and "Trends Communication" as its social role. By taking full advantage of its "Six Capitals" and keeping the PARCO Group business model revolving, the delivery of new value becomes synonymous with the brand value of the PARCO Group. Put differently, this results in a process for the creation of new value to which society at large can connect.