Employee Work/Life Balance Support System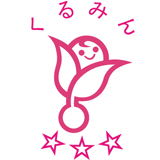 As part of PARCO's Employee Work/Life Balance Support System, we are engaged in providing our employees support relating to both childcare/nursing care and to work. In 2007,2012 and 2015 PARCO was certified as conforming to the standards for general employers in accordance with the Law for Promoting Measures to Support the Development of the Next Generation through formulating and implementing an appropriate action plan for the establishment of employment conditions. As a result of this, PARCO received the "Kurumin" mark certification.
We have set the period between now and June 2020 as the 4th phase of our targets to promote utilization of an institution for the support of work and childcare(nursing care) balance, provision of employment environment and improvement way of working. To archive those targets, we have enacted measures that are the promotion of reviewing way of working and an institution for the support of work and childcare(nursing care) balance.
Systems currently beyond stipulated by the law
1) System to use during pregnancy

・Mitigation on working during pregnancy (paid)
・Revival of expired annual paid leave days

2)System to use during time of birth

・ Spouse maternity leave

3)System to use during childcare/nursing care

・Childcare leave
・System for requesting a specific department to be reinstated
・Childcare leave period (paid)
・System for selecting dates for childcare/nursing care leave, reduced-hour work days, and holidays
・Discounts on babysitter services
・Re-employment of retirees based on childcare/nursing care related reasons
General employer action plan (4th phase) based on the Next Generation Education and Support Promotion Act
Human Resources Development Initiatives
PARCO considers each and every employee as an indispensable asset and a platform for future growth. We are engaged in implementing educational programs geared for different career paths and areas, with the aim of equipping each one of our staff with stronger skills and higher motivation.
We are also implementing an educational rotating system that periodically rotate staff between various departments, business areas, and regions, allowing them to widen their horizons and to strengthen their adaptability. Through a variety of workshops, we are working to introduce a competency and ability based career progress system.

Administration Division
In addition to the rotating system, PARCO is working hard to support our employees' capacity for development through providing a wide range of training and learning opportunities.
2015 training implementation
1) New employees

Induction training (e-learning, training trips), pre-assignment training (approximately two months), follow-up training

Young mid-level employees

Business skills training, tutor training (for new employee training), industry placement training, business school support, support for attending external public seminars

3) Other

Department-specific skills training, management training, compliance training, market inspection training, e-learning/distance learning, financial reward for obtaining qualifications/paid examination fees
Promoting dynamic participation of women
The PARCO Group is promoting diversity management as a move for achieving a sturdier business base that will lead directly to its advancement as a company. Guided by the Diversity Committee, we pursue measures for fostering a corporate climate in which diverse values are mutually recognized, and real opportunities exist for all employees to showcase their skills and to grow. Of the issues PARCO faces, we view efforts to promote greater participation by women as vital, taking steps to embed career seminars, management training sessions and work-life management internally throughout PARCO; we also pursue measures to comply with Japan's Act of Promotion of Women's Participation and Advancement in the Workplace (Advancement of Women Act).
At PARCO CO., LTD., we promote participation by women through a variety of initiatives. We recognize that encouraging shorter working hours by promoting the use of paid leave and improving the percentage of women in managerial positions will go far in helping to resolve issues pertaining to female participation. Together with enacting measures to encourage taking leave, we formulated an action plan in response to the Advancement of Women Act that includes cultivating female managerial candidates, providing opportunities for boosting the career consciousness of young female employees, and creating a workplace more conducive for employees with time constraints.
With respect to the annual average number of days of paid leave taken, we are aiming for 10 days by fiscal 2020, compared to five days in fiscal 2014. In parallel, we are striving to have women make up 20% or more of managers in fiscal 2020, versus 11% as of March 2015.
Action plan based on the Advancement of Women Act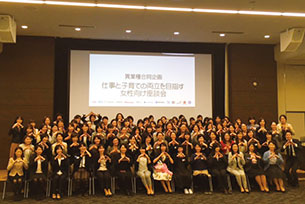 Participation in cross-industry consortiums
PARCO takes active part in and shares information from cross-industry consortiums and other projects focused on work and female career education and work-life balance.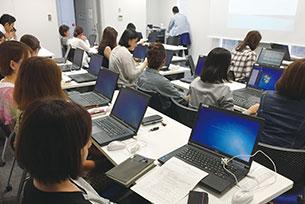 Support for working from home
For employees with time constraints because of childrearing and other reasons, PARCO is providing both an office environment and related systems that enable work from home, and is promoting more effective usage of working hours.