As Shibuya PARCO, the point of origin for the PARCO Group itself, gets set for the next stage in its evolution, we sat down for a conversation between Creative Director Michihiko Yanai, known for his involvement in numerous PARCO ad campaigns, and Executive Officer for the Entertainment Department Hajime Inoue on producing the PARCO brand.
Inoue:

Since 2011, PARCO has had "Evolving From Our Point of Origin" as our slogan. What is this point of origin? It is three key concepts – "Incubation," "Urban Revitalization," and "Trends Communication" ―that form an unbroken connection to PARCO's roots. When we talk about "Evolving From Our Point of Origin," we mean spurring the evolution of these concepts in step with the present day.

Yanai:

PARCO really is one of a kind, isn't it? I'd wager you would be hard-pressed to find another company anywhere that sets those three concepts as the core of its branding efforts. You might be apt to think that this probably won't deliver an even return on investment. From where I'm standing, I see this act as throwing a ball far into the future. As people, we often tend to want results that materialize relatively quickly, so that posture really does set PARCO apart.
That said, I both know and have experienced the enormous things those three concepts have brought, and I have nothing but respect for PARCO's commitment to using those three cores as anchors to remain unshakeable no matter how times may change.
"Urban Revitalization" Can't Happen Alone
Inoue:

It was often said after the opening of Shibuya PARCO that it changed the flow of people, and I think this was huge for PARCO. On the streetlamps, we hung signs reading "VIA PARCO = Park Street," installed red phone booths and took other actions that, one by one, contributed to urban revitalization.

Yanai:

It's really something that the name of a public street was changed because of a new commercial facility, isn't it? Parco is a general term meaning 'park,' but VIA PARCO is actually PARCO Street!
Looking at PARCO from the outside, PARCO changed the image of the district, which happened to be Shibuya, through the PARCO brand. While having its own effect on the district, PARCO itself absorbed the transformation of the district. There was a direct relationship between PARCO's own branding and the new and interesting ways in which Shibuya as an urban area would transform.

Inoue:

PARCO's approach is that we can't do urban revitalization alone. For example, during the existence of PARCO Theater, we saw the emergence of The Tokyu Group's Bunkamura venue, as well as lots of mini theaters after the appearance of CINE QUINTO. Starting with CLUB QUATTRO, there are also many live music venues. So with theater, cinema and music, an air of culture has come to infuse the entire Shibuya district. While the number of competitors has also risen, things will get interesting as PARCO, not alone but together with other people, raises the level of cultural activities in the district.
Entertainment and "Trends Communication"
Inoue:

PARCO has always been a company that creates spaces. That's why live events are the heart of its Entertainment business. The notion that we should create something entertaining for those deciding to actually go to a venue in person is what sets PARCO's Entertainment business apart. For example, the space that we label PARCO Theater has featured comedy, serious dramas, and traditional Japanese satire. After doing this for four decades, people have finally started to say, "That's a lineup we expect from PARCO Theater." Our desire is to continue hosting spaces in the same way for music and films, too.

Yanai:

For lots of people, I think their curiosity goes to how content within a space is created. But what happens is you create an empty container, toss many different things in, and watch something new emerge. The decision to be fine with just having the container is the essence of PARCO's originality.

Inoue:

I think the creation of a space and the many things that come from it all contribute to PARCO branding. "Trends Communication" is about more than what advertising can convey. It's about a sense of what the essence of PARCO really is, what comes through from a combination of the shops and products found within PARCO, with the entertainment provided by venues like PARCO Theater, Shibuya CLUB QUATTRO and CINE QUINTO.
"Incubation" for Each Era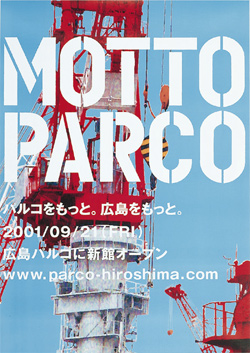 Inoue:

One of our cores, "Incubation," is something we've focused on for years. For instance, young fashion brands have become popular and grown after being PARCO tenants, while new actors and performers have become stars through appearances at PARCO Theater, just to name a few examples. PARCO is a stage where new people create new things. I think that is the essence of what PARCO is.

Yanai:

When I was trying to get into college years ago, I encountered PARCO for the first time. It was during the Japan Graphics Exhibition, which calls on public submissions and of which PARCO is a main sponsor. It was at the time when now famous artists Katsuhiko Hibino and Noriyuki Tanaka made their debut at the exhibition. The artists who entered were used in advertising, which led to their next jobs and the opening of exhibits. You could say that I saw "Incubation" at work right before my own eyes.

Inoue:

This PARCO exhibition, enabled by public submissions, has continued through name changes, and will come to be called the "Touchstone for young artists" by some, but has always involved several thousand young artists bringing their work to an underground parking garage.

Yanai:

I remember that! Throngs of young people lined up along VIA PARCO with their works, some wrapped in traditional carrying cloth, others in panel portfolios. But because lots of people turned out, that doesn't mean it translated into sales at all for Shibuya PARCO (well, I'm sure sales probably rose a little). It was really about incubation, right? For some, this public art exhibit catapulted them to stardom. For others, it made memories for those who submitted works and those who saw the lines. And in some cases, the outcome was tangible and intangible assets that have lasted for decades. Yanai's first ad for PARCO, "MOTTO PARCO" (1994) poster for the opening of Hiroshima PARCO

Inoue:

In 2010, when we thought about an approach of how we can realize "incubation" in a concrete way, we concluded that the competition-type public exhibit we did in the past is no longer viable. That was how the Shibukaru Festival was born. While the idea of discovering and introducing young talent to the world was the same, we didn't feel that giving an award under the "crown" of PARCO was really appropriate for this era.

Yanai:

The mindset of young people has really changed, hasn't it? Rather than being in the spotlight of competition, this generation wants to connect in a less hierarchical way and collaborate. I think PARCO was spot on in calling this trend.
Ad Expression Attuned to the Times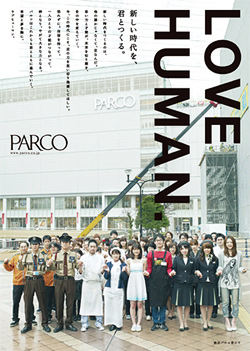 Inoue:

We have long entrusted our corporate campaign to you, Mr. Yanai, and the "LOVE HUMAN." poster developed in 2011, the same year as the terrible earthquake, was also created by you.

Yanai:

Immediately after the quake, I went to the epicenter. I would argue that the ad photo I took there with the staff in front of Sendai PARCO was, as a work, a turning point both for myself and for PARCO. Being able to create an ad that could declare to readers, "Hey, Japan will survive, we can overcome this together," was hugely important for me. For PARCO, meanwhile, it was a work that in an instant seemed to change the Company's course. My impression was that it went beyond advertising to alter PARCO's approach at a higher level; in other words, it clarified the resolve to declare PARCO's commitment to "Evolving From Our Point of Origin."

Inoue:

Without question, it felt as if a new day had dawned. It was different from the stylish photos and text of earlier PARCO ads, and gave rise to a new way of expressing PARCO.

Yanai:

You might say that PARCO had chosen a sharper direction that was a break from the past but in touch with the times.
Advertising and "Incubation"
Yanai:

I would say PARCO is a company that has also pushed "Incubation" in the field of advertising. This is of course true in my case, given how my work with PARCO has shaped my career. A long time ago, I decided on my own to create a video where I challenged PARCO to "make a commercial more like this one!" and sent it on VHS tape along with a letter to the head of the advertising department. All of a sudden my phone rang, and the voice on the other end said, "I was deeply moved by your work." A few years later, that same person contacted me again, this time to formally hire me for a job. My guess is that many creators have been groomed and shaped by PARCO in this way.

Inoue:

Now that is quite a story! (laughs)

Yanai:

The first time I was put in charge of PARCO advertising, I was still employed by Hakuhodo. I remember the ad department chief of PARCO at the time declared, "after working for my department, everyone ends up starting their own business." PARCO has continued to give creators job opportunities that become turning points for them. The fact that the head of the advertising department understood this clearly is something I've never forgotten.

Inoue:

Mr. Yanai, you are, in the present tense, in charge of Shibuya PARCO's temporary closing campaign, called "Last Dance_"

Yanai:

In creating "Last Dance_" advertising, driven by art director Tsuguya Inoue, I remember feeling a bit weird as everyone went about preparing for this breakpoint for Shibuya PARCO. A bunch of us whose professional lives have been shaped by PARCO came together, worked hard to prepare meals, receive guests, and decorate with flowers, all while showing our appreciation to and respect for Shibuya PARCO. "I want to give something back. I want to live in a way that makes PARCO proud to have backed me." For those on the receiving end of PARCO's "Incubation," I would say that everyone has a similar sentiment in some way.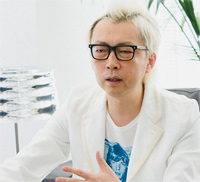 Profile Michihiko Yanai
Creative director. Born in Japan's Fukushima Prefecture in 1964.
After a stint at ad firm Hakuhodo, established magazine Kazetorock. Involved in numerous PARCO advertising campaigns, including "SPECIAL IN YOU." "LOVE HUMAN." "Last Dance_" as well as Tower Records' "NO MUSIC, NO LIFE." and Recruit's "Zexy" campaigns. He is an Associate Professor at the Tokyo University of the Arts Department of DESIGN, Director of Shibuya Radio (FM87.6MHz), Publisher and Editor-in- Chief of Kazetorock Monthly, Creative Director for Fukushima Prefecture, and guitarist for the group Inawashirokos, which appeared on the nationally televised 2011 NHK Kouhaku Uta Gassen music competition.