Our store activities are based on a model of equal partnership. As part of this, we maintain close communication with tenant staff to address problems and develop new solutions and expand opportunities for trainings and other programs.
An equal partnership
PARCO's equal partnership approach to our store tenants extends to landowners as well. We believe that a fair and equal relationship alongside a mutual sharing of values contributes to the growth and development of both PARCO and our partners.
PARCO Association activities
At PARCO, we base our store activities on "equal partnership" with the approximately 860 companies and 2,400 tenants within our stores, so that everyone can grow together.
The PARCO Association, formed from the tenants, promotes the maintenance and development of this relationship. PARCO and the PARCO Association members work together to make a contribution to local communities and achieve mutual prosperity, in the spirit of this equal partnership.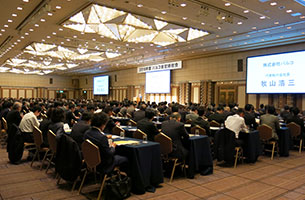 Tenant staff support system
All the staff standing on the sales floors at PARCO value our customers. We offer staff various training programs to better equip them to make decisions and act on their own.
Examples of these programs include orientation training for staff before they join the shop, security and disaster-prevention training, and staff-development training to better understand customer needs and improve the quality of service.
In addition, each store is actively involved in providing opportunities for the development of staff skills through programs that include the "Customer-service survey" that assesses the way that a staff member looks after customers from the customer's perspective, and the "Shine-as-a-team ★ customer-service role-play contest" designed to improve the service-delivery ability of an entire service team.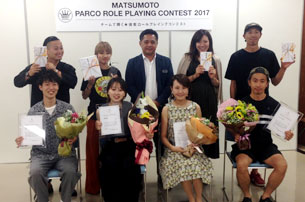 Improvements to work environments
PARCO is actively promoting improvements to work environments. Initiatives including renovations of break rooms and the addition of convenience stores and private phone booths will allow shop staff to focus on their work with customers.
Measures to leverage ICT to improve customer relations and enhance operational efficiency
SUTEKI LABO, the dedicated website for PARCO shop staff, is filled with information that can typically only be learned by taking part in group training seminars; staff can use their PCs or smartphones during free moments to watch how-to videos on customer service and other relevant topics.
Furthermore, tenant staff members receive daily "shop service rating" (five-star evaluations and comments) collected from registered customers through the PARCO original smartphone app "POCKET PARCO." Words of praise from customers as well as things customers would like to see and other messages are also shared with staff, providing motivation in day-to-day activities and sparking sales floor improvement.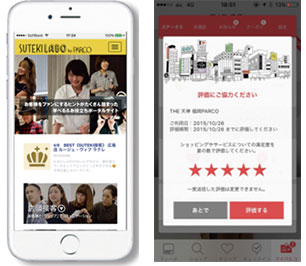 Credo
We established a code of conduct for shop staff as a credo serving as the motivation behind all activities by PARCO and tenants for customers.
While pursuing concrete activities based on this credo, we aim for qualitative improvement in interactions with customers across PARCO as a whole.
"PARCO shop staff and compliance hotline"
In addition to the reporting system for employees, this new help-desk for tenant employees to use to discuss or report rule or compliance violations by our company was set up in 2010. This help-desk is for all tenant employees who work in shops in PARCO. The aims of the help-desk are to eliminate violations of workplace rules, and by enabling tenant employees to work with peace of mind day by day, it can create a workplace that is easier to work in.
Updated Sep. 1, 2017