Relaxation of air-conditioning temperature settings inside stores
We use an appropriate temperature setting and measure on-site temperatures separately on each floor and during each time period. In this way, we were able to reduce our CO2 emissions even more. Even after that period, we worked hard throughout the year to achieve air-conditioning by optimizing the volume of air taken in from outside, and running air conditioners intermittently.
Promotion of switch-over to LED lighting
Following our efforts to introduce energy-saving lighting, chiefly LED lights, we are lowering not only the levels of heat that our lighting emits, but are also reducing CO2 emissions.With the exceptions of fluorescent lighting and high-efficiency lighting, we've changed our incandescent lighting in our all stores LED lighting since FY2012.
Reducing the environmental burdens of individual shops
We have several systems in place to reduce these burdens. For example, when a new shop is being planned or an existing shop is being renovated, we place restrictions on the amount of power that we will supply.
PARCO Space Systems is a member of the PARCO Group. We work with them to promote energy savings among the shops in our stores. They carry out an energy consumption audit of each shop and help shops to use less energy.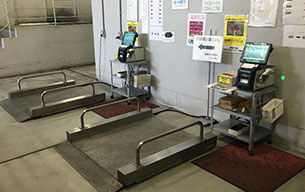 Promoting recycling and reuse
Through the cooperation of tenant businesses, PARCO is proactively working to reduce business garbage and increase renewable use. We are implementing practices including the reuse of plastic hangers, 100% recycling of cardboard and waste oil, and the recycling of compostable garbage into fertilizer. We also use garbage scales to visualize the amount of garbage generated by each tenant, creating a structure that promotes the recycling of every recyclable item.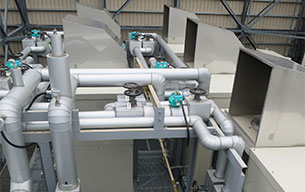 Initiatives on the facilities, equipment and usage front
All PARCO stores are making great efforts in energy conservation through the adoption of cooling with outside air in spring, autumn and winter, the introduction of low-energy-consumption lamps and switch timers and by water conservation through the introduction of automatic water conservation valves, toilet flush sound imitators and water conservation sensors.
We are also pursuing initiatives for drawing underground water from wells, cleaning well water, grey water and rain water to reuse as toilet drainage water. At Nagoya PARCO and Urawa PARCO we have adopted co-generation systems, effectively using waste heat from power generation to heat water and in pools.
Procurement of Tradable Green Certificates
Some PARCO stores have gained Tradable Green Certificates. These certificates indicate that through the use of solar power and other means, the store has been able to reduce its annual power consumption by an amount equivalent to about 1,122 tons of CO2. We plan to use these certificates when we fulfill our obligations to reduce our CO2 emissions.