Store development
The ZERO GATE business model leverages PARCO's broad network of tenants and extensive expertise in store development to carry out development projects that meet and exceed the expectations of tenants and property owners. Specializing in low- to medium-rise shopping complexes in prime urban areas, the ZERO GATE model adapts flexibly to suit property size and location, developing attractive, high-value-added shopping complexes on a timely schedule.
Other stores
Pedi Shiodome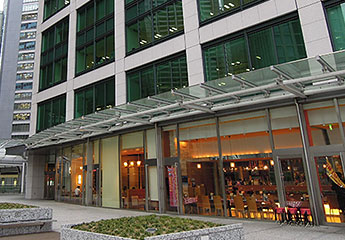 Pedi Shiodome comprises sections of Tokyo Shiodome Building's first and second basement floors and second above-ground floor.
The store's name is derived from Pedi, a prefix meaning foot, pedestrian, and plains.
Tokyo Shiodome Building is a mixed-use development that includes offices, a hotel, and a commercial complex, and this is PARCO's first foray into an urban office complex.
Tenants: 24 shops (16 restaurants /4 retail outlets/ 4 service outlets)
Updated Aug. 22, 2019