Service improvement, reflecting our customers' wishes
Our salespeople and our staff who work at our information desks in our stores pass on to us questions and comments they receive from customers. This information, together with customer complaints received via phone calls, letters or e-mail are all entered into a database. All this data is shared throughout our company and forms the basis for service improvement.
Improvements to restrooms and nursing rooms
Reflecting our customers' opinions, we are adding new nursing rooms and restrooms, as well as upgrading existing facilities.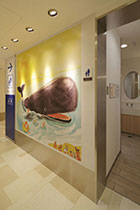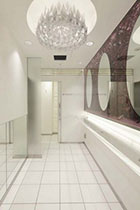 Stroller lending
We have strollers within our stores, to lend to customers who require them.
First-aid room
We have a first-aid room at our stores to assist any customers who might require medical assistance.
Smoking room
Following calls from our customers, we are building smoking rooms for our customers at our stores.
These will create a more pleasant environment for our customers and will improve the environment within the building.

Information available at our portal site
We have opened a portal site that will serve as one of the branches of communications between us and our customers. The site offers a wide range of information about our company. The site publishes a variety of information on a timely basis, including updates about each PARCO store, company information, news releases, and various types of notifications. We manage our portal site in a steady and functional way. We improve it so that it can easily be used, even at peak access times. We renew our portal site, paying careful attention to ease of viewing and ease of use.