Our basic policy regarding IR activities
PARCO is working to speedily supply information, based on transparency, fairness, and continuity, to its shareholders and investors. We are working to supply information in compliance with the timely disclosure rules and regulations of both the Financial Instruments and Exchange Law and the Tokyo Stock Exchange.
Our website has a substantial corporate information and IR section. We issue press releases to the media. We also work to disclose information that is easy for shareholders and investors understand and in an environment that is easy for them to access. We do this through a wide range of media, including explanatory meetings held in Japan and overseas, and through various printed publications. Furthermore, we issue information via RSS, Facebook, and Twitter to make it easier for people to receive.
Semiannual financial results briefing
Financial results briefings and other explanatory meetings for analysts are held every six months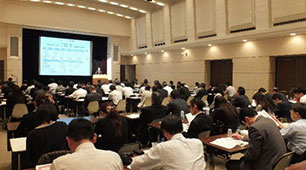 Explanatory meetings for individual investors within Japan
To help individual investors deepen their understanding of PARCO, we hold explanatory meetings for them from time to time.