Since PARCO stores are places where members of local communities gather, we have taken a wide range of measures to ensure both the safety and peace of mind of the people who visit our stores. We have taken the following three-pronged approach to achieve this objective. The first of the three parts is "Safety in day-to-day living," the second is "Safety in the shop," and the third is "Life-protecting safety."
Initiatives to achieve "Safety in day-to-day living"
The products that we offer must be safe for our customers to use. Taking the safety of foods and food ingredients as an example, we make sure that all the people working in the food shops and restaurants at PARCO stores carry out strict hygiene management.
We maintain a relationship in which they know we are watching (in the best possible sense) and we periodically conduct our own hygiene inspections of these shops within our stores. We inspect their kitchen hygiene, the way in which they store their food and ingredients, and we also check the expiry dates and the data displayed on their ingredient containers.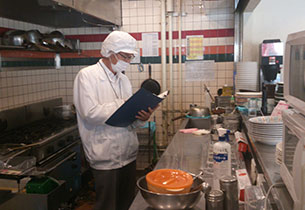 Initiatives to achieve "Safety in the shop"
In addition to welcoming the large number of customers who visit a PARCO store, it is only natural that we take measures to ensure their safety once they arrive.
For example, there are many shop windows in a PARCO store. Each of these glass panes is coated with anti-shattering film to protect people in the unlikely event of window breakage. The large display shelves have mechanisms to prevent the shelves from collapsing.
We have staff who are specially trained in disaster prevention roles, and they practice each day. We actively participate in fire-fighting technology training tournaments held by local fire stations, and have achieved some good results.
We also offer training to the shop staff on how to use fire extinguishers so that they can take action in initial fire fighting. We have set up an information system that links each shop to our Disaster Prevention Center so that the shops can rapidly respond to emergencies.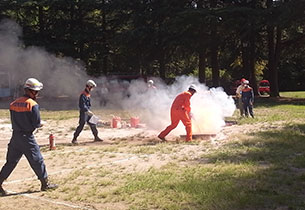 Initiatives to achieve "Life-protecting safety"
It is always possible that a shopper may suffer the onset of a heart attack or be suddenly taken ill. To prepare for such an event, all PARCO security staff and maintenance personnel undergo paramedic training with the local fire station staff. All shops have an AED (Automated External Defibrillator) and the staff are trained in their use. In fact, these have been used to help revive people who have collapsed on the sidewalk near a PARCO store.
We hope that in our role as a commercial facility in the central business district of many cities and towns in Japan, PARCO stores can help to make this kind of contribution to society.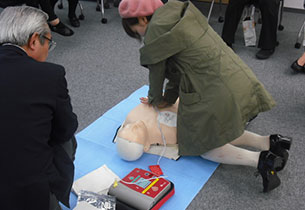 Earthquake disaster prevention training
As a commercial facility used by a large number of shoppers, PARCO has adopted disaster-prevention policies designed to quickly ensure the safety of its shoppers in the event of a disaster. These involve all staff, from the shop staff to the maintenance personnel, and each has a role to play.
Based on the lessons learned from the Great East Japan Earthquake of March 11, 2011, we are working to develop contingent responses, not only for evacuation but also to ensure the safety of buildings and of escape routes, as well as training for the rescue and transportation of injured people.