Evolve the Store Brands
We will enhance unique tenant services and provide consumers with genuine retail experiences in order to create next-generation commercial spaces and stabilize earnings, aiming to further promote the evolution of the PARCO store brand.
---
New Shopping Experiences
VR and MR Create New Shopping Spaces
In March 2018, we participated in the SXSW Trade Show held in Austin, Texas, United States, by developing an exhibit of virtual reality (VR) shopping content on the theme of "Shopping in 2020" using the STYLY VR platform developed by Psychic VR Lab Co., Ltd. After the exhibition, in May we conducted a demonstration at the RUNWAY channel Lab. SHIBUYA store of MARK STYLER Co., Ltd., in the SR6 facility operated by PARCO. We aim to provide services that encourage sales by presenting fashion together with experiences that cannot be had in real space.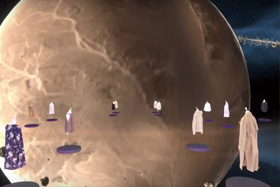 In the VR space, it is possible to design spaces that are free from constraints such as size and gravity. This enables us to express the brand concept, the designer's intention, and the seasonal theme as a space without having to create the physical decor. It also enables us to place 3D ensembles of apparel and accessories in the space. Moreover, arranging data within the space eliminates the need to hold actual apparel inventory and enables placement of a greater volume of stock than what is possible in a real store. Visitors can enjoy shopping surrounded by countless products, just like selecting products on an e-commerce website. Furthermore, by detecting the visitor's movement using sensors, it is possible for multiple people to share the VR space, enabling people to enjoy chatting with friends and looking at products while in the VR space.
Message from Stakeholders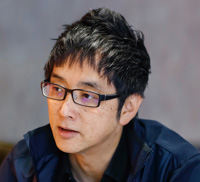 Nobuhiko Watanabe
Psychic VR Lab Co., Ltd.
Director and COO
We have worked together with PARCO to create a shopping experience of the future using next-generation VR and MR interfaces.

I think that PARCO's desire to spark innovation by incorporating advanced initiatives ahead of anyone else has created a new culture, and I'm delighted that we have achieved this together. I'm excited about the prospect of creating new shopping experiences and an even newer PARCO together, looking forward to 2020.
Promoting Digital Customer Services Using 3D Data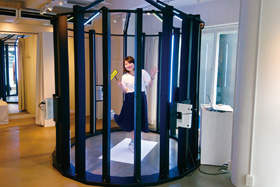 On Thursday, December 14, 2017, we introduced a 3D scanner at the RUNWAY channel Lab. SHIBUYA store at SR6. The scanner captures images of an object from multiple points to grasp its three-dimensional shape and converts them into data. We offered a service that allowed customers to capture 3D image data of their own clothing and view it on a web browser, and shop staff provided digital customer service using the 3D data, such as capturing ensembles of apparel in 3D and posting them
on a website or social media.
* The service at SR6 finished at the end of May 2018.
Promoting Circulation through a Facility Using an App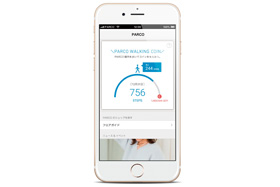 PARCO WALKING COIN is a new function that measures the number of steps taken by users inside a facility and awards a coin when they reach a target number of steps. The system was introduced at PARCO stores nationwide on Monday, May 14, 2018, after an advance introduction at Urawa PARCO, Chofu PARCO, Fukuoka PARCO, and Tsudanuma PARCO. Visitors start the official PARCO smartphone app, POCKET PARCO, inside the facility and begin counting their steps. When they reach a target number of steps, they can obtain a coin. Adding a function that can be enjoyed inside the facility creates opportunities for customers to encounter store blogs and event information posted on the app when they are in the facility and to discover stores that they have never visited before as they walk around.
Utilizing Robots
Robots Support Store Operations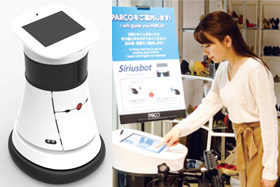 The Siriusbot robot was jointly developed by 08 WORKS Inc. and Nihon Unisys, Ltd. specially to provide guidance to customers and assist employee operations in commercial facilities and retail stores. The robots were trialed at Ikebukuro PARCO in October 2017, PARCO_ya in November 2017, and Nagoya PARCO in May 2018. Siriusbot responds to customer inquiries in English or Japanese using both voice and screen and can guide customers to the store they seek. After closing time, Siriusbot patrolled the inside of the stores, collected data on tenant store stock inventories by reading electronic tags, and supported tenant staff in stocktaking operations.
Voice Guidance Service Using Smart Speaker
In November 2017, we developed PARCO Skills, a voice dialogue application specially designed for providing guidance in commercial facilities. The application works with the Amazon Alexa* cloud-based voice service provided by Amazon. By installing Amazon Echo smart speakers in stores and starting voice dialog guidance services, customers can use the application in-store as well as in their own homes.

On Tuesday, April 3, 2018, the speakers were installed at several locations inside Ikebukuro PARCO. The system can provide information about shops, restaurants, and available products, as well as responding to over 600 question variations, mainly based on frequently asked questions taken from records of daily inquiries compiled at the Information Center. The system was also installed at Nagoya PARCO on Thursday, May 17, and for a limited time until Monday, May 28, we trialed a service where customers requiring the assistance of a Siriusbot were able to call for one by talking to Amazon Echo.
*Amazon Alexa is the brain supporting Amazon Echo. It is built on a cloud platform and is constantly evolving.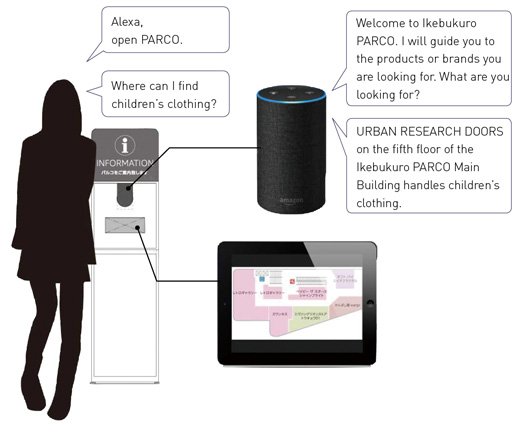 Enhancing Tenant Services
AI-Based Store Analysis Solution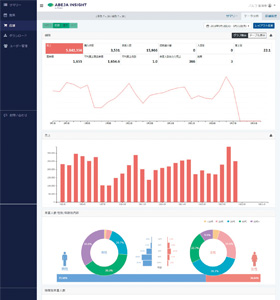 ABEJA, Inc. provides a retail and distribution service for analyzing the number and characteristics of store visitors called ABEJA Insight for Retail. The service has now been introduced for tenant stores at PARCO_ya (with certain exceptions). The data obtained is used to quantitatively measure the impact of marketing initiatives such as promotions and events. We also provide the system to tenants as part of our services for them. Tenants use the system to increase operational efficiency by confirming trends in store visitor numbers at different times of the day, and on different days, helping the tenants to optimize their staffing systems. PARCO_ya is the first in Japan to introduce ABEJA Insight for Retail
tenant service for all of its facilities.
Messages from PARCO Partners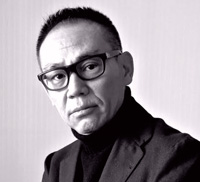 Susumu Sasaki
Chairman, PARCO Association
CEO & President, JUN Group
Expectations for New Shibuya PARCO
Shibuya PARCO is the origin of PARCO. It was an epoch-making store when it opened its doors in 1973, giving birth to the concept of a commercial facility for Japanese fashion and it continued to evolve as a source for cultural dissemination over the years.

As a consumer, I have great expectations for the new start in fall of 2019. With the country's leading design capabilities, PARCO, of all companies, is certain to be reborn as a challenging and appealing facility that creates new surprises as a cultural dissemination point amid the dramatically changing fashion environment of today.
Updated Oct. 22, 2018