Trends Communication
Providing Web-based Trend Communication and Services for a "24-Hour PARCO"
PARCO is actively leveraging advanced ICT technologies backed by its store network and establishing a digital environment at stores in line with rapidly changing consumption patterns to create new modes of enjoyment at commercial facilities.

The PARCO Shop Blog is used by some 3,000 tenant shops within PARCO complexes to transmit information in a faster, more appealing way and promote store visits by customers. We also provide the "Kaeru PARCO" service, which allows in-store items seen on the Shop Blog to be reserved and purchased online, and have released POCKET PARCO, the official PARCO smartphone app, which allows us to provide information tailored to each individual user. Through these efforts, we are working to create infrastructure that allows customers to enjoy a "24-hour PARCO" over the Internet. What's more, utilizing ICT, we are promoting improvements in the job efficiency of shop staff working at PARCO.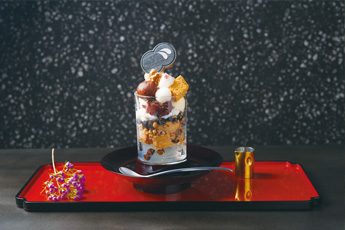 ---
Information provided using original advanced ICT
POCKET PARCO has made it possible to analyze customer purchase information that had not previously been rendered and has dramatically improved the PDCA cycle for increasing customer satisfaction. With POCKET PARCO, we can register the information of customers who use the PARCO Card, our house card, and since March 2016 we have been using artificial intelligence to provide information tailored to each individual customer based on their purchase and visit data, registered favorites and other types of information. Customers who have registered their PARCO Card information on POCKET PARCO are visiting PARCO 1.5 times more often and purchasing 1.7 times more than before, so it has been an effective tool for customer engagement. The day after customers make a purchase, they are contacted with a request for their satisfaction level and opinion, and their evaluations are fed back to shop staff. In fiscal 2016, 720,000 feedback items were received from customers, and the assessments and comments of so many customers have also helped to further motivate shop staff. In addition, in order to raise customer satisfaction amidst diversification in payment methods, in December 2016 we began issuing* the PARCO PRICA prepaid card, which is used with the POCKET PARCO app and provides 0.5% cash back on purchases. It is part of our efforts to also enhance services for customers using payment methods other than credit cards.

Further, we continue to reinforce online communications through Shop Blog, accounts for which have been provided to approximately 3,000 shops at our complexes. Shop Blog has a card function, and we have enhanced the functions of "Kaeru PARCO," which allows customers to buy or reserve in-store products online. This means customers can take advantage of the same services as are available when making in-store purchases, such as special discounts when paying with the PARCO Card. In fiscal 2016, around 300 shops participated in "Kaeru PARCO," utilizing it for lucky bags (gift bags filled with myste ry items), sales of limited-time products, and more, which has enabled the shops to engage with customers beyond their local markets.
* Advance issue at Chofu PARCO and Fukuoka PARCO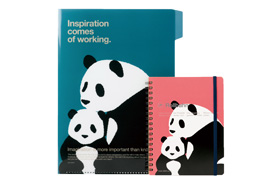 ---
Message from stakeholders
Narika Iwahara
Staff Member, Samantha Vega Hiroshima PARCO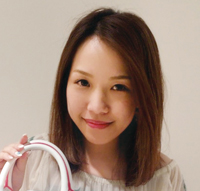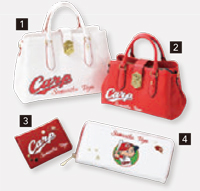 Hiroshima Toyo Carp Tie-In Products
1.Large bag
2.Small bag
3.Mini wallet
4.Long wallet
To raise daily customer service levels, we have enhanced role-playing training based on a broad range of customers and strengthened presentation of our shop cards. These efforts have raised the shop's rate of repeat visits. We primarily promoted sales of products tied in with the Hiroshima Toyo Carp baseball team through communications that emphasized their high value as "rare items only available for a limited time." In addition, we utilize "Kaeru PARCO" to allow Carp fans around the country who are unable to come to the store to make purchases. We also maintain a blog and have received support even from people outside the prefecture.
---
Megumi Takano
Sales Chief, CECIL McBEE Hiroshima PARCO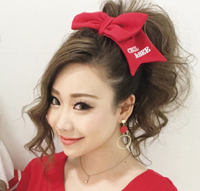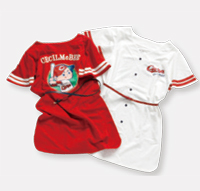 Tunic-style dress available only at Hiroshima PARCO
Our store utilizes "Kaeru PARCO" and social networking services for sales of products tied in with the Hiroshima Toyo Carp baseball team. Carp tie-in merchandise is very popular each year with many customers, and people who come to the store for the products are increasing each year, from both inside and outside the prefecture.

Recently, for marketing the Carp tie-in products, in addition to the PARCO blog, we have also strengthened promotions on branded social media. "Kaeru PARCO" is a convenient service that allows even people far away and unable to come to the shop to make purchases easily, so it is a very helpful tool for our shop.

Looking ahead, we have high expectations for measures to increase awareness of "Kaeru PARCO." And, of course, all the staff members at our store actively introduce POCKET PARCO and "Kaeru PARCO" to customers so that even more people become aware of the services.
Updated Sep. 1, 2017