PARCO to Open Kawasaki ZERO GATE (provisional name)
                              April 9, 2018
                            PARCO CO., LTD.

PARCO is proud to announce its plans to open a new shopping complex, Kawasaki ZERO GATE*,and has recently entered into a fixed-term building lease option agreement to secure a site for the complex.
1.Overview
Kawasaki (population: 1.5 million) is one of Japan's major cities. The area has high potential,as demonstrated by the construction of a new road link to Tokyo International Airport (Haneda)
and an ongoing concentration of state-of-the-art industrial/research facilities along the TokyoBay waterfront. These, together with its recent designation as a National Strategic Economic
Zone, support expectations for the further functional development of the city.

Under the agreement, PARCO will lease an entire building to be constructed near JR Kawasaki
Station. PARCO expects this complex – tentatively named Kawasaki ZERO GATE – to enter
commercial operation in early autumn 2019 and is planning store openings accordingly.
Kawasaki ZERO GATE is to be situated in a highly visible triangular plot across from JR Kawasaki Station, bordered by the main road in front of the station, Shinkawa Street, and Via CLUBCITTA.
To take full architectural advantage of site characteristics, the building will feature anapproximately 100-meter long glass curtainwall. This will provide an attractive façade for tenants to express their own commercial appeals and to impart a sense of excitement and vitality to the surroundings.

PARCO will announce details such as tenant composition as they are determined.
This initiative is being advanced under Tactic 2 – produce commercial real estate – outlined in our Medium-term Business Plan (FY2017-21). It calls for us to establish new commercial facilities in urban areas that don't yet have a PARCO store.
2.Building overview
Name       : Kawasaki ZERO GATE*
Address : 1-1 Ogawa-cho, Kawasaki-ku, Kawasaki-city,Kanagawa Prefecture, Japan
Site area (planned) : Approx. 2,300 ㎡ (planned)
Floor area (planned) : Approx. 3,400 ㎡ (planned)
Structure / Scale   : Steel frame; two above-ground foors(planned)
Investment amount : Approx. ¥1bn (planned)
Opening       : Early autumn 2019 (planned)
Tenants        : To be determined

3.Building owner (lessor)
Name : MM Investment Partnership K.K.
Address : Horikawa-cho 580-16, Saiwai-ku, Kawasaki-city, Kanagawa prefecture
Representative name, title : Yasunori Yamanaka, Representative Director
Business description : Holding of real estate; sales, leasing, brokerage, management and other
services for land and buildings
Relationship to PARCO : None

4.Outlook
The expected impact of this development on current year earnings is included in our earning projections (released April 9, 2018) for that year.
Reference1: site map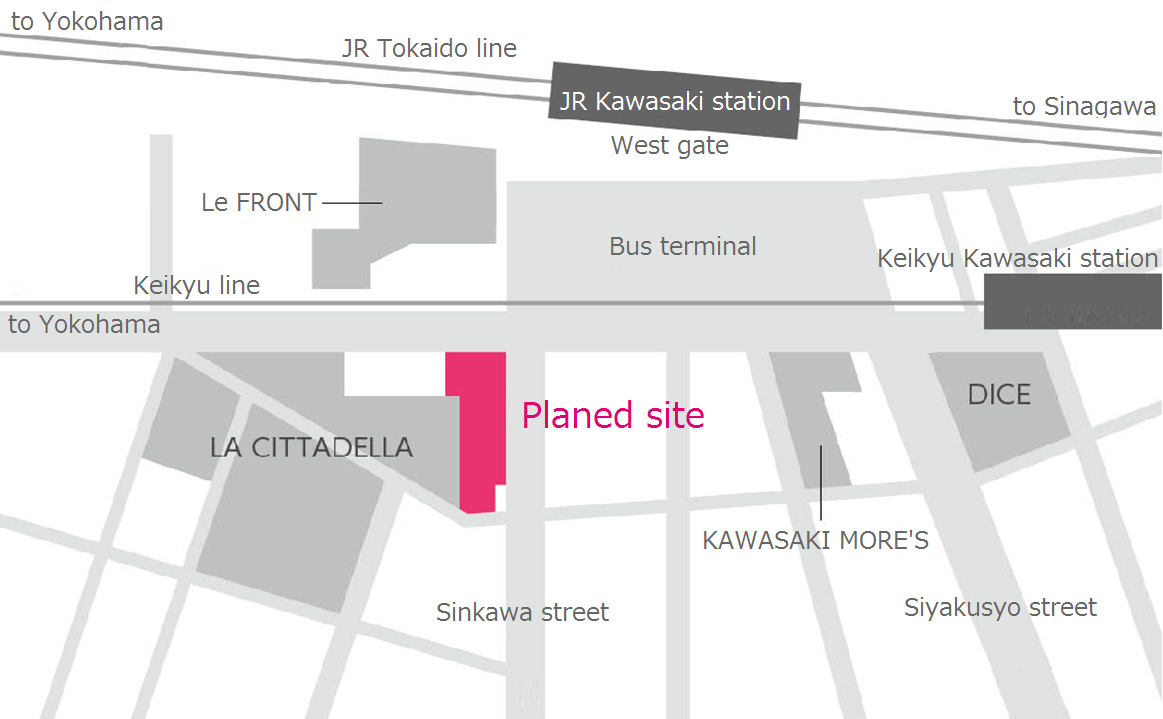 Reference 1: Planned location of Kawasaki ZERO GATE (Provisional name)