PARCO optimizes store operation and product range to match the characteristics of the stores' locations, and operates a different store concept in each market.
As part of our Shopping Complex Business, we are currently strengthening development of the ZERO GATE low to medium-rise urban shopping complex business model, leveraging our strength in comprehensive shopping complex development.
PARCO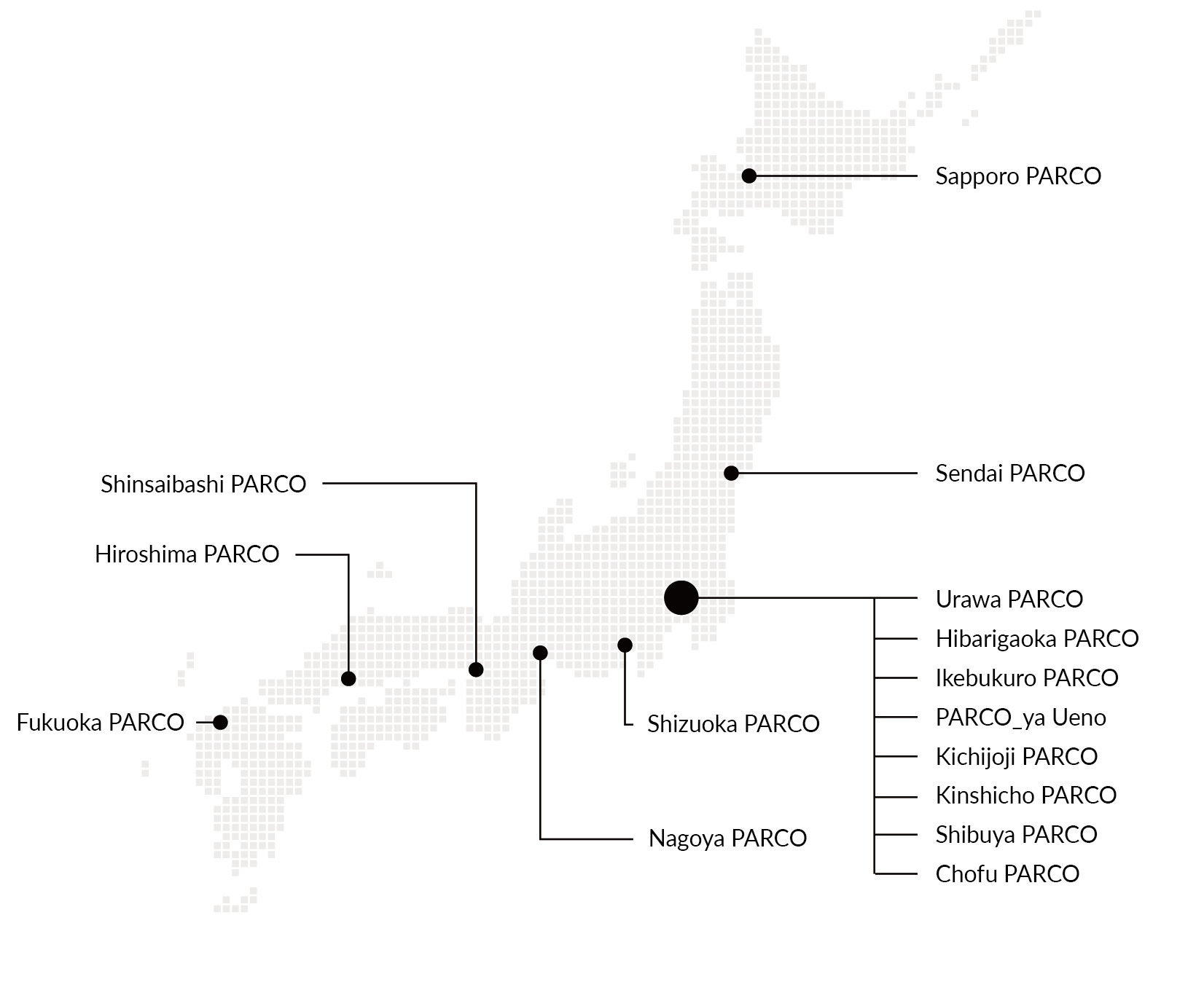 City Complex Group
At City Complex Group, we are strengthening our position in the market by consistently offering choices to trend-conscious urban consumers, by pursuing fashion and innovation, and by proposing the PARCO lifestyle.
Through collaboration with tenants, creators, and other companies, we are creating an environment for new businesses to grow.
Sapporo PARCO

3-3 Minami-Ichijo Nishi, Chuo-ku, Sapporo, Hokkaido

03-3477-5731

B2F-8F
Opened: August 24, 1975

Sendai PARCO

1-2-3 Chuo, Aoba-ku, Sendai, Miyagi

022-774-8000

Main Building: B1F-9F
Opened: August 23, 2008
PARCO2: 1-9F
Opened: July 1, 2016

Urawa PARCO

11-1 Higashi-Takasago-cho, Urawa-ku, Saitama, Saitama

048-611-8000

B1F-7F
Opened: October 10, 2007

Ikebukuro PARCO

1-28-2 Minami-Ikebukuro, Toshima-ku, Tokyo

03-5391-8000

Main Building: B2F-8F
Opened: November 23, 1969
P'PARCO: B2F-8F
Opened: March 10, 1994

PARCO_ya

3-24-6, Ueno, Taito-ku, Tokyo
Ueno Frontier Tower, 1-6F

Opened: November 4, 2017

Ueno Frontier Tower: B1F, 7F–10F
Opened: November 4, 2017

Kichijoji PARCO

1-5-1 Kichijoji-Honcho, Musashino, Tokyo

B2F-8F
Opened: September 21, 1980

Shibuya PARCO

15-1 Udagawa-cho, Shibuya-ku, Tokyo

03-3464-5111

B1F-10F
First Opened: June 14, 1973
Opened: November 22, 2019
SR6: 1-2F

Kinshicho PARCO

4-27-14 Kotobashi, Sumidaku, Tokyo

1-7F
Opened: March 16, 2019

Chofu PARCO

1-38-1 Kojima-cho, Chofu, Tokyo

042-489-5111

B1F-10F
Opened: May 25, 1989

Shizuoka PARCO

6-7 Koyamachi, Aoi-ku, Shizuoka, Shizuoka

054-272-8111

B1F-8F
Opened: March 15, 2007

Nagoya PARCO

3-29-1 Sakae, Naka-ku, Nagoya, Aichi

052-264-8111

West: B1F-11F
East: B1F-8F
Opened: June 29, 1989
South: B1F-10F
Opened: November 6, 1998
PARCO midi: 1-3F
Opened: March 27, 2015

Shinsaibashi PARCO

1-8-3 Shinsaibashi-suji, Chuo-ku, Osaka, Osaka

06-7711-7400

B2F-14F
Opened: November 20, 2020

Hiroshima PARCO

10-1 Hondori, Naka-ku, Hiroshima, Hiroshima

082-542-2111

Main Building: B1F-10F
Opened: April 9, 1994
Annex: B1F-9F
Opened: September 21, 2001

Fukuoka PARCO

2-11-1 Tenjin, Chuo-ku, Fukuoka, Fukuoka

092-235-7000

Main Building: B1F-8F
Opened: March 19, 2010
Annex: B2F-6F
Opened: November 13, 2014
Community Complex Group
Community Complex Group offer a wide range of products and services in tune with the characteristics of the market. These cover not only fashion but also restaurants, general merchandise, home electronics, educational, and sports-related goods. In this way, we offer new ideas that incorporate functionality and convenience and meet the needs of customers in the local community. We hold community events and operate our stores with a distinctive, local style.
Tsudanuma PARCO

2-18-1 Maebara-Nishi, Funabashi, Chiba

047-478-5555

Building A: B1F-6F
Building B: B1F-6F
Opened: July 1, 1977

Shin-Tokorozawa PARCO

1-2-1 Midori-cho, Tokorozawa, Saitama

04-2998-8111

PARCO: B1F-5F
Let's: B1F-4F
Opened: June 23, 1983

Hibarigaoka PARCO

1-1-1 Hibarigaoka, Nishi-Tokyo, Tokyo

042-425-5000

B1F-5F
Opened: October 8, 1993

Matsumoto PARCO

1-10-30 Chuo, Matsumoto, Nagano

0263-38-2111

B1F-6F
Opened: August 23, 1984
ZERO GATE
ZERO GATE is positioned as standing at the origin of our endeavors to offer a wide range of themes including fashion and culture, and providing new value as a gate to the district.
Sapporo ZERO GATE

3-15-1 Minami-Nijo Nishi, Chuo-ku, Sapporo, Hokkaido

B2F,1-4F
Opened: February 26, 2016

Harajuku ZERO GATE

4-31-12 Jingumae, Shibuya-ku, Tokyo

1-4F
Opened: March 17, 2018

Shibuya ZERO GATE

16-9 Udagawa-cho, Shibuya-ku, Tokyo

B1F-4F
Opened: April 16, 2011

Kawasaki ZERO GATE

1-1 Ogawa-cho, Kawasaki-ku, Kawasaki, Kanagawa

1-2F
Opened: August 8 , 2019

Nagoya ZERO GATE

3-28-11 Sakae, Naka-ku, Nagoya, Aichi

1F-3F
Opened: October 10, 2014

Shinsaibashi ZERO GATE

1-9-1 Shinsaibashi-suji, Chuo-ku, Osaka, Osaka

B2F-4F
Opened: April 13, 2013

Kyoto ZERO GATE

83-1 Tachiurinakano-cho, Takakura Higashi-iru, Shijo-dori, Shimogyo-ku, Kyoto, Kyoto

B2-7F
Opened: November 4, 2017

Sannomiya ZERO GATE

2-11-3 Sannomiya-cho, Chuo-ku, Kobe, Hyogo

1F-4F
Opened: September 14, 2018

Hiroshima ZERO GATE

2-7 Shintenchi, Naka-ku, Hiroshima, Hiroshima

1F-3F
Opened: October 10, 2013

Hiroshima ZERO GATE2

9-4 Hondori, Naka-ku, Hiroshima, Hiroshima

1F-3F
Opened: September 10, 2016
BINO
BINO Okachimachi

3-21-5 Ueno, Taito-ku, Tokyo

1-5F
Opened: December 2, 2019

BINO Ginza

5-8-9 Ginza, Chuo-ku, Tokyo

B2-6F
Opened: December 7, 2017

BINO Sakae

3-24-17 Nishiki, Naka-ku, Nagoya, Aichi

B2F-6F
Opened: November 6, 2020

BINO Higashinotoin

643 Mototakeda-cho, Takoyakushi-sagaru, Higashinotoin-dori, Nakagyo-ku, Kyoto, Kyoto

1-3F
Opened: April 3, 2019
Other stores
Pedi Shiodome

1-9-1 Higashi-shinbashi, Minato-ku, Tokyo

B2F-B1F, 2F
Opened: February 16, 2005

Com Terrace Okachimachi

3-22-6 Ueno, Taito-ku, Tokyo

1F-4F
Opened: September, 2015

Com Terrace Higashi-Shinsaibashi

1-4-5 Shinsaibashi-suji, Chuo-ku, Osaka, Osaka

1F-2F
Opened: April, 2015

Cattleya Plaza ISEZAKI

1-5-4 Isezakicho, Naka-ku, Yokohama, Kanagawa

1F-3F
Opened: February, 2012

SAN-A Urasoe West Coast
PARCO CITY

3-1-1 Irijima, Urasoe, Okinawa

1-3F
Opened: June 27, 2019
Updated Mar. 4, 2022