PARCO is proactive in tackling ESG (Environment, Social, and Governance) issues and is promoting initiatives that will lead to the sustainable improvement of the PARCO Group.
The PARCO Group Value Creation Process
PARCO, together with its stakeholders, strives to create new lifestyles, guided by the PARCO Group Corporate Mission and the sentiment embodied in the PARCO name. In business, PARCO leverages its capabilities as a comprehensive commercial space producer, while pursuing management strategies in step with the times, to propose ways to enrich consumer lifestyles. This encapsulates the creation of new value to which society can connect.
PARCO views the tireless advancement of such value through "Incubation," "Urban Revitalization" and "Trends Communication" as its social role. By taking full advantage of its "Six Capitals" and keeping the PARCO Group business model revolving, the delivery of new value becomes synonymous with the brand value of the PARCO Group. Put differently, this results in a process for the creation of new value to which society at large can connect.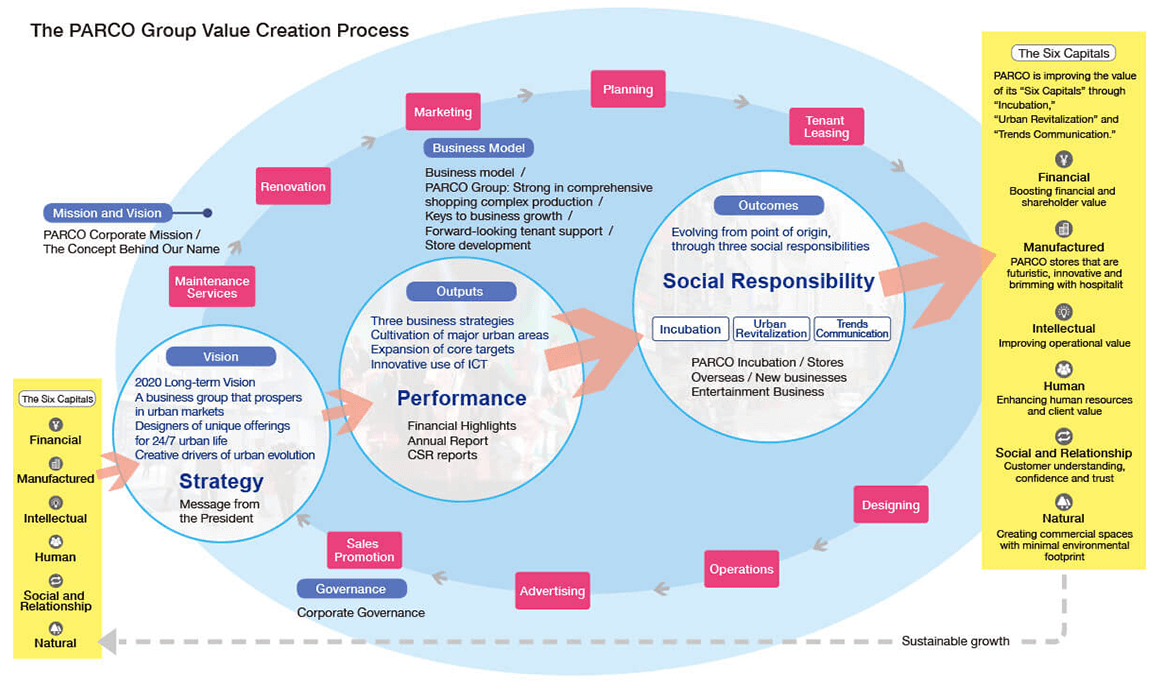 Environment
Environmental preservation initiatives
The PARCO Group recognizes global environmental issues as an important theme in its business activities in shopping centers and related fields. Through the promotion of environmental preservation activities, the Group seeks to leave a sustainable society for future generations. To this end, the Group aims to reduce the environmental impact of the commercial spaces it creates. These efforts include cooperating with tenants and other transaction partners, and making sure that customers and local communities are informed of the Groups activities and accept them.
Society
Promotion of Diversity
PARCO considers each and every employee an indispensable asset and a platform for future growth.
PARCO promotes diversity management because we believe that hiring and cultivating motivated employees with diverse abilities and characteristics creates new value, contributing to the improvement, development and growth of our business. PARCO is also promoting the dynamic participation of women in its business, supporting employees' work/life balance by reviewing work styles and implementing measures to ensure both work and childcare/nursing commitments can be maintained.
Customers and Store tenants
Our salespeople and our staff who work at our information desks in our stores pass on to us questions and comments they receive from customers. This information, together with customer complaints received via phone calls, letters or e-mail are all entered into a database. All this data is shared throughout our company and forms the basis for service improvement.
Also, one of the things that really sets PARCO apart from other companies is our equal partnership with our store tenants. Since we share common values, we have a partnership in which we all can grow and develop.
Members of the local community and society at large
PARCO Group looks to prosper alongside the areas in which it operates PARCO stores, and places great importance on co-development and contributing to improving the appeal of these towns and regions by actively engaging with the local community in a variety of ways.
Since PARCO stores are places where members of local communities gather, we have taken a wide range of measures to ensure both the peace of mind and safety of the people who visit our stores.
Entertainment activities
PARCO has produced diverse content in theater, music, and art through our Entertainment Business and contributing to enriching the lifestyles of our customers. Furthermore, in addition to multi-media productions, such as DVD and book versions of this content, and organizing collaborations, we also offer live entertainment with real emotion and discovery. Since its establishment by PARCO in 1977, ACROSS has observed and analyzed "People", "Things", and "The Streets" under the concept of Street Fashion Marketing.
The next generation
Since its founding, PARCO has been at the forefront of introducing the public to the cutting edge of culture, whether in music, the arts, the theater or other areas, discovering and supporting a host of new talent along the way. PARCO is taking advantage of its domestic and overseas networks and business expertise to provide opportunities for business growth.
PARCO operates Booster which is a crowd-funding service that allows groups or individuals to procure funding for new ventures from individuals via the internet. The service helps get projects off the ground through a combination of online and offline support, including partnerships with physical PARCO stores, and works with ordinary people to get their creative efforts out into the world.
Corporate Governance
PARCO Corporate Mission / Message from the President
"Creating welcoming, forward-thinking, innovative spaces that provide an enjoyable experience for customers and help our tenants prosper." This is PARCO Corporate Mission.
In achieving our Corporate Mission, PARCO hopes to continue to create value that satisfies all of our stakeholders, including customers, tenants, and shareholders. We aim to develop and grow as a company by achieving reasonable profits through these activities.
Corporate Governance
We at PARCO are to constantly work to strengthen our system of corporate governance, recognizing that in order to enhance corporate value, we must: protect the rights and interests of our shareholders, build smooth relationships with stakeholders other than shareholders, preserve transparency in management, and establish an effective management oversight structure. Our corporate governance system is to be characterized by a clear distinction between supervision and execution. Here, to assure a high degree of transparency in corporate governance while facilitating decision-making and execution, we adopt a corporate managerial structure that includes a Nominating Committee and other such entities.
CSR management
The PARCO Group defines CSR as "measures taken in the course of business to gain the trust and satisfaction of stakeholders, and enhance corporate value," and many such initiatives are undertaken. We enhance the quality of future CSR activities. At the same time, we work to build smooth relationships with all stakeholders.
Risk management
Our company will work to increase corporate value by establishing a system to assure the suitability of our company and group's operations regarding factors such as the efficiency and effectiveness of these operations, the credibility of our financial reports, the legal compliance of our business activities, and preservation of company assets.
In the conduct of our business, all PARCO executives and employees conduct fair and highly-transparent business activities in compliance with the various laws in Japan and overseas, social rules, social norms, and various internal company regulations.
Disclosure
PARCO strives to present all our stakeholders, including shareholders and investors, with timely information that is fundamentally transparent, balanced and consistent. As well as increasing management transparency, PARCO endeavors to build trusting relationships with all stakeholders and promote a deeper understanding of the company through the timely disclosure of relevant information.
Organization of ESG initiatives
Environment
Environmental preservation initiatives
Society
Diversity
Relationship with customers and store tenants
Members of the local community and society at large
Entertainment activities
Suport to the next generation
Governance
PARCO Corporate Mission / Message from the President
Corporate Governance
CSR management
Risk management
Disclosure
Updated Apr. 27, 2018