Expand the functions and content of POCKET PARCO, the official app
On November 22, 2018 (Thursday), we carried out a major overhaul of POCKET PARCO. The app now distributes PARCO Journal, an entertainment column edited by PARCO to provide a quick, one-minute read, which we operate as owned media. The column aims to satisfy users' curiosity by introducing seasonal fashion trends and items of interest, area-specific content highlighting local attractions, and providing PARCO's own entertainment information. We also renewed the official PARCO online sales portal, KAERU PARCO, as PARCO ONLINE STORE. In addition to the previous services and stores, we will promote cutting-edge new brands and select stores exclusively online, with a different perspective from physical PARCO stores. Looking ahead, we will build on the POCKET PARCO platform, which enables people to experience PARCO anytime, anywhere, by adding payment functions and other convenient features, while promoting customer communication using digital technology.

VRNEWVIEW AWARDS 2018 Calls for VR
*1

Content

We set up NEWVIEW as a joint project with Psychic VR Lab Co., Ltd. and Loftwork Inc. and held the NEWVIEW AWARDS 2018. The awards look toward a time in the near future when everyone will have access to expression in three-dimensional space and seek to discover and support next-generation creators who are able to lead the way in new expressions of VR, culture, and lifestyles. In June and July 2018, we called for entries, and received 219 works from seven countries, with nine being selected for awards. The Gold prize (Grand Prix) was awarded to virtual YouTuber Emoco's personal VR exhibition, "EMOCO'S FIRST PRIVATE EXHIBITION," while the PARCO Award was presented for XR*2 space designer Discont's entry, "SHAPE MEMORY OF YOU."
*1 VR: Virtual Reality. A technology that enables users to experience a virtual world projected inside a special headset.
*2 XR: A collective term for technologies such as VR that enable users to experience virtual spaces and objects generated by computers as though they exist in the real world.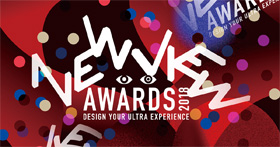 Judge's Comment Managing Executive Officer Sensui of PARCO
It was a piece that stirred my expectations of "I wonder what's coming up next" while going around the seven exhibitions in the space, while the space changed as I advanced forward. In addition, among current creators of VR spaces, there are many skilled people who call themselves "engineers," but through this award, a creator appeared taking on the title of a "VR space designer" (the creator of this piece, Discont). This made me think that VR will be taking a huge step in shifting towards art, fashion and culture in the future, which is why I chose this piece.
We have started creating a piece with Discont.
The finished work will be unveiled on the 5th floor of Shibuya PARCO, which is scheduled for completion in November 2019.
Message from Stakeholders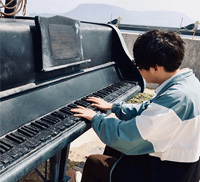 Discont
XR space designer
After receiving the PARCO Award at NEWVIEW AWARDS 2018, I started exploring my potential as an XR space designer every day. As a creator, I am constantly aiming to generate superlative experiences that nobody has ever seen before. This is indeed the vision of NEWVIEW. I don't think that anyone can predict where the new phenomenon inspired by NEWVIEW will lead. However, as I experience the new winds of change on the front line of XR, I cannot help but feel that we are on the cusp of a new era.

When Shibuya PARCO opens, we will take the first step toward the vision of NEWVIEW with the presentation of this work.

This is an important step in creating the future of XR. I am very excited to be able to create this moment together with PARCO.
Creating new value that crosses the divide between the internet and the real world
PARCO has been engaged in various initiatives such as the incubation space, UP NEXT, aiming to foster new stores and brands. Our aspiration is to create new value that crosses the divide between the internet and the real world, and to allow the potential of store brands to blossom and grow into stores that will become part of PARCO, and by extension the retail industry, in the future.
Supporting business expansion of SHOPCOUNTER and fashion brands
SHOPCOUNTER is a market-place service offering leases on empty stores in shopping centers, train stations, and other commercial spaces and retail areas, operated by COUNTERWORKS Inc. We collaborated with COUNTERWORKS Inc. to open a SHOPCOUNTER POP UP STORE to jointly operate the UP NEXT incubation space at Ikebukuro PARCO from April to July 2019. We called for applicants on SHOPCOUNTER, aiming to give creators and influencers active on YouTube and social networking services an opportunity to expand their businesses by opening a store for several weeks to showcase their own internet-based brands in a physical store.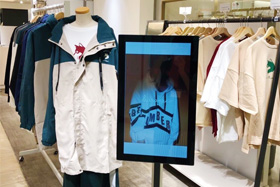 Exchanging unwanted items for shopping coupons and providing instant buying and selling experiences on CASH
The popular app CASH provided by Bank, Inc., enables items to be exchanged instantly for cash. We collaborated with Bank, Inc. to open a pop up store, CASH here, in Ikebukuro PARCO. At the first store in November 2018, people brought in fashion items and exchanged them for Ikebukuro PARCO shopping coupons, providing an experience of being able to use the coupons directly to purchase new items, which can only be had at a physical store. For the second pop up store, which opened in March 2019, we provided an even more convenient experience, in that users did not need to carry items into the store, but needed only to show a photograph on a smartphone which could be scanned and bought on the spot by CASH.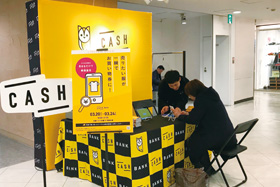 Opening the first pop up store selected by STORES.jp
PARCO collaborated with STORES.jp, Inc., which operates the online store construction service STORES.jp, to open pop up stores at Fukuoka, Nagoya, and Ikebukuro PARCOs. STORES.jp Inc. carefully selected innovative and forward-looking owners who applied under the different themes of apparel and food. At the first pop up store in Fukuoka PARCO in December 2018, we introduced 16 brands of coffee, tea, and sweets to be enjoyed at home under theme of "Order in for a Cafe at Home." At the second pop up store at Nagoya PARCO in January 2019, we introduced 13 brands of selected accessories under the theme of "My Favorite Self."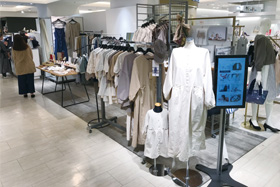 Showrooming store FACY STORE's debut opening in a commercial facility
FACY is a fashion service operated by STYLER Inc. offering professional online consultations. We collaborated with STYLER Inc. in the commercial facility debut opening of FACY STORE, a showrooming* store, at Kichijoji PARCO in February 2019, as a limited time project. We provided a new shopping experience by combining the ability to hold actual products, which can only be experienced at stores, with online services.
*Showrooming refers to checking a product in a physical store before purchasing it online.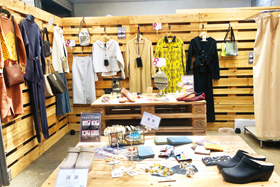 A personal styling experience event by airCloset
airCloset, Inc. operates Japan's first and largest monthly fashion rental service for women, airCloset. PARCO teamed up with airCloset, Inc. to hold personal styling experience events with professional stylists at Urawa and Kichijoji PARCOs. Customers were able to discuss their fashion concerns with stylists and receive proposals for styling that truly suits them, enjoying new encounters with fashion and communication with the stylists.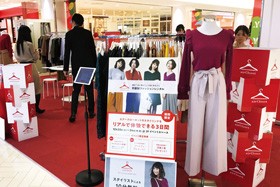 Updated Oct. 15, 2019