Stores Opened in Fiscal 2018
Harajuku ZERO GATE
Opened in March 2018
This facility opened in March 2018 on Meiji Dori avenue in the Harajuku and Jingumae area, which has a high profile both in Japan and internationally. With a popular social networking service character merchandise store LINE FRIENDS flagship store in Harajuku and a fitness gym, B.I.F BY NERGY, based on a new concept developed in Japan of using martial arts to pursue Japanese feminine beauty, the facility contributes to the vibrancy of the district and helps to improve circulation through the area.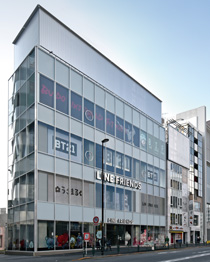 Kyoto ZERO GATE
Fully opened in August 2018
Located adjacent to the Daimaru Kyoto department store, facing Shijo Street, Kyoto's commercial center, this facility opened on some of the upper floors in November 2017. The facility fully opened in August 2018 with the opening of Apple Kyoto, Apple's first directly managed store in Kyoto. Encased with huge sheets of glass presenting a traditional Japanese shoji screen motif, the entire building has a distinctive illumination effect in the evenings, when it lights up like a traditional Japanese lantern.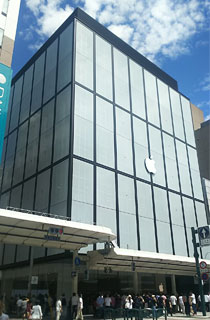 Sannomiya ZERO GATE
Opened in September 2018
This facility opened in September 2018 at the intersection of Kobe's Sannomiya Center Gai shopping street and Tor Road, which connects the former foreign settlement and the Yamate area. The facility's opening was preceded by the openings of Kobe's first lifestyle store, COLONY 2139, and the first adidas Brand Core Store in western Japan, based on the STADIUM concept. In February 2019, Hot Yoga Studio loIve and the photo sticker booth specialty store, girls mignon opened. The facility will contribute to enlivening Kobe's Sannomiya district.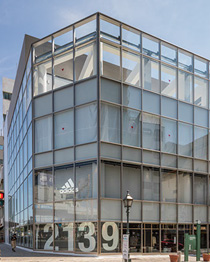 Stores Opened in Fiscal 2019
Change starting
Opening of Kinshicho PARCO
Opened on March 16, 2019
Kinshicho PARCO opened on March 16, 2019 in Sumida-ku, eastern Tokyo, which has been drawing attention following the appearance of the TOKYO SKYTREE. For this facility, we leased a portion of the Rakutenchi Building and made major renovations to the interior and exterior. Kinshicho PARCO will provide a new function in the Kinshicho urban subcenter, providing stores with an urban sensitivity and enhancing services that maximize the convenience of the station-front area. The building is designed to serve as local infrastructure for attracting visitors to the district for more than just shopping, and will meet the needs of local customers and help to increase the charm of the Kinshicho area. Tenants in the store are on-board with the Kinshicho PARCO concept and include some of the largest, or latest, format openings, as well as local stores from Sumida-ku and famous "Kinshicho Legend" stores from the area. Kinshicho PARCO will continue striving to be a facility where all kinds of people can spend quality time.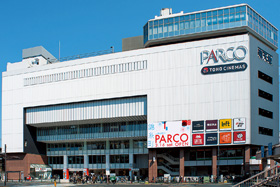 Hybrid store lineup offering urban sensitivity and a strong local flavor
Of the 105 stores, 69 are opening in the Kinshicho area for the first time
The first floor is the entrance floor looking onto the street, featuring imported brands, cosmetics, cafes, and a food hall with openings by famous local eateries. On the second, third and fifth floors, men's and ladies' fashion stores open along with related stores and large-scale accessory retailers. The entire fourth floor is dedicated to the lifestyle store MUJI, with a combined cafe. The sixth floor has a direct connection to a cinema, and is set up as a casual restaurant zone open to everyone, and an elaborately designed fashion and culture floor. The seventh floor is the top floor, offering service function for local living infrastructure such as a post office, a medical mall, and satellite offices. The facility is designed to be a close part of everyday life.
Kinshicho PARCO Floor Plan

1F Sumida Food Hall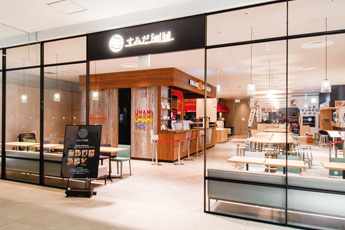 7F One-stop, convenient services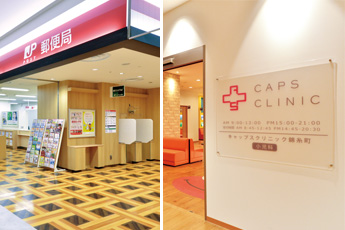 Message from Stakeholders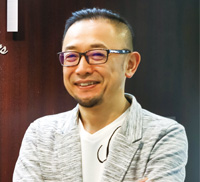 Junichi Akaike
Representative Director and President
PEET co., LTD.

Kinshicho PARCO 6th floor
G-LAND EXTREME
We are very grateful to have the opportunity to open a store at Kinshicho PARCO. We have been selling apparel here in Kinshicho since 1968. We started opening directly operated stores around 20 years ago, and it is now the main format of our business.

The Rakutenchi Building where Kinshicho PARCO has opened holds memories for me as I used to come here to see movies as a child. At the time, the area around the south gate of Kinshicho Station was booming, and the north gate area was a bit lonely. Then, the north gate area was redeveloped about 25 years ago, and it was reborn with city hotels and office buildings. When the TOKYO SKYTREE opened, Kinshicho Station entered the spotlight as it is the nearest JR station. Kinshicho PARCO is in a superb location in the middle of the north and south gates, connecting them. I am certain that the complex will continue to develop going forward.

We will provide top quality casual wear to Kinshicho PARCO customers, with gratitude to Kinshicho for our 50 years of business there.

Thank you for your support.
A shared sense of happiness—from here into the future
Opening of SAN-A Urasoe West Coast PARCO CITY
Opened on June 27, 2019
SAN-A Urasoe West Coast PARCO CITY was opened in Urasoe City, Okinawa Prefecture on June 27, 2019. It will be operated by major Okinawan distributor SAN-A CO., LTD. and SAN-A PARCO, Inc., a joint venture established by SAN-A CO., LTD. and PARCO CO., LTD. for operating commercial facilities. SAN-A Urasoe West Coast PARCO CITY is a large-scale facility with a store area of around 60,000m2, set in a prime location approximately 15 minutes' drive from Naha Airport overlooking the beautiful sea. A rich variety of stores is combined with PARCO's environmental design and soft content to provide completely new value to the Okinawan market, targeting the growing local population and the expanding number of domestic and overseas tourists, who current number 9.8 million per year.
A rich variety of tenant stores to cater to diverse needs, from daily shopping to special occasions
Of the 250 stores, 94 are opening in Okinawa for the first time
Ninety-four stores will be opening in Okinawa for the first time, including urban style fashion brands, fast fashions from overseas, cosmetics stores, and popular restaurants from around Japan. In addition, the facility features a full range of stores offering everything from classic souvenirs to new local store formats, and food themes from all over Japan to provide a flavor of Okinawa and Japan, along with 50 local Okinawan company's stores.

The first floor takes the theme of "enjoying living through the seasons," catering to daily needs as well as proposing a slightly more up-market every-day experience, and new lifestyles for enjoying abundant day-to-day living. The theme for the second floor is "enjoying urban style." It features the first select stores in the area, as well as overseas fast-fashion brands for a main focus on highly discerning fashion to propose urban lifestyles. The third floor theme is "enjoying local specialties," offering a new "third place" and entertainment for the community as a floor that proposes ways to spend leisure time.
SAN-A Urasoe West Coast PARCO CITY Floor Plan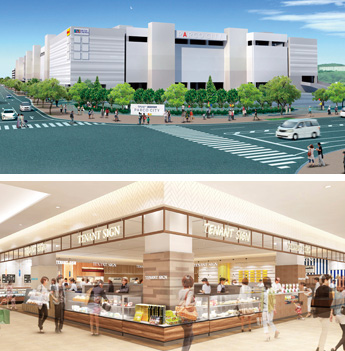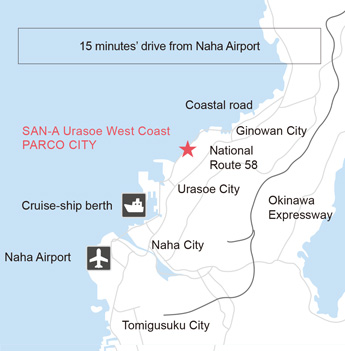 Updated Oct. 15, 2019